JOO CHIAT
Hotels in Joo Chiat Area
Hotel 81 Sakura
新加坡81酒店-樱花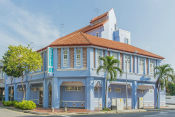 Hotel 81 Tristar
新加坡81酒店-鑫星
East Coast Seafood Centre
You will find many options for local seafood restaurants here. Among them are the Jumbo Seafood, Long Beach Seafood Restaurant, Red Horse, No Signboard Seafood Restaurant, Tawandang Microbrewery, Seafood Kitchen and Crystal Jade Seafood BBQ.
East Coast Lagoon Food Village
The East Coast Lagoon Food Village is a hawker centre with a rustic "kampong" (or Malay village) design. A good choice, especially in the evening, to have a meal and enjoy the outdoor ambience.
Duman Food Centre
For a local hawker fare, head down to the Dunman Food Centre.
Katong Village
The site is fronted by a 24-hour Old Hong Kong teahouse, located in a conserved police station facing East Coast Road. There are 11 restaurants located at Katong Village.
Chin Mee Chin Confectionery
One of the last remaining Hainanese coffee shops of old, Chin Mee Chin serves traditional breakfast, coffee and hot kaya (a traditional jam made from eggs, sugar and coconut juice) buns and delightful sugar rolls are sold freshly baked.
112 Katong
Located at the intersection of East Coast Road and Joo Chiat Road, 112 Katong is positioned as the lifestyle, F&B and fashion hub in the Eastern-part of Singapore. The shopping mall will comprise of 6levels of retail and lifestyle shops and a cinema.
Parkway Parade
Parkway Parade is one of Singapore's first major and biggest suburban malls. It has 250 stores conveniently located over 6 levels including Best Denki, Giant Hypermarket, Isetan and other F&B outlets.
Joo Chiat Complex
A suburban mall located along Changi Road in the Geylang Serai area of eastern Singapore is a place where you can find a wide array of colourful Malay textiles, crafts, jewellery and traditional clothing, Joo Chiat Complex is bustling with activity, especially during the Hari Raya season when bazaars are set up alongside the complex selling everything and anything needed for the celebration.
East Coast Park
There's plenty to do here – bowl, bike, fish, stroll, picnic, rollerblade, windsurf, wakeboard, kayak, or just chill out at any of the many restaurants and bars that line the 15 km stretch of sandy beach. The famous East Coast Park Seafood Centre located here is also where locals and visitors alike come together to indulge in local delights.
Church of the Holy Family
The Church of the Holy Family, a pre-World War II parish church, was a focal point for the Eurasian community of Katong. Its dates back to 1902 - the original chapel was built in 1923 and held the first Christmas mass in Katong in 1936. Today, it continues to serves the local Catholic community. Re-built in 1999, the front sculptures have been retained from the original church structure.
Katong Antique House
A veritable museum of Peranakan artefacts, the Katong Antique House showcases family heirlooms and antiques collected by its genial owner, Mr Peter Wee. An appointment with Peter will allow him to immerse you in stories from his grandfather's days. Check out the intricately woven kasut manek (beaded slippers), charming furniture and wedding costumes from a unique culture.
Conserved Terrace Houses off East Coast Road
These single-storey terrace houses stand beside a former sea wall, near where the beach used to be before land was reclaimed. The living area was built on raised ground to protect against the rising tides. An eclectic mix of traditional local architecture, infused with Western influences, is seen in the elaborate fascia boards and decorative plaster motifs.
Rumah Bebe at 113 East Coast
Established in 1948 by Tay Leck Teck, it stocked a range of products unavailable elsewhere, and was one of Singapore's best-loved stores. This shophouse now houses Rumah Bebe (Bebe's House), a Peranakan heritage store and museum. Try on a custom-made kebaya or a batik sarong, or catch a beading demonstration. Cooking classes and ready-to-cook spices are available for those who want to cook nonya-style meals back home.