Lavender /rochor /balestier (central area)
Hotels in lavender /rochor /balestier Area
Hotel 81 Dickson
新加坡81酒店-狄生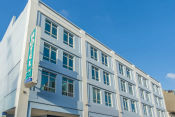 Hotel 81 Elegance
新加坡81酒店-雅丽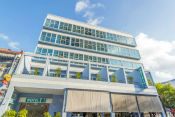 Hotel 81 Rochor
新加坡81酒店-梧槽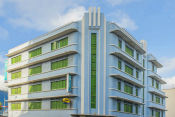 Hotel 81 Balestier
新加坡81酒店-马里士他
Hotel 81 Fuji
新加坡81酒店-富士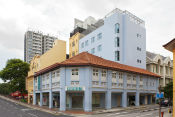 Golden Mile Food Centre (Army Market)
Beach Road. The food centre is famous for the 'Ah Balling', sweet rice flour dumpling with peanut soup, as well as many local delights like chay kwai tiao
Nam Hwa Chong (Ah Chew) Fish Head Steamboat
This restaurant located opposite the Textile Centre, Jalan Sultan serves good fish head steamboat. Charcoal-boiled fish head steamboat, served with fresh sliced Garoupa fish, cabbages, seaweed, dried fish and fried yam. This one is the traditional teochew style fish soup that relies on the fresh fish for its sweetness.
Ng Ah Sio Bak Kut Teh
Ng Ah Sio at Rangoon road is definitely one of the most popular Bak Kut Teh places in Singapore. Pork ribs in the strong peppery soup base served with rice and dough fritters.
Loong Fatt Eating House &Confectionery
639 Balestier Road. Located at Balestier Road, Loong Fatt Eating House & Confectionary is a coffee shop that sells pastry and puffs such as their specialty tau sar piahs.
House of Tau Sar Piah
529 Balestier Rd Not necessarily the original, but certainly large and popular. Offers a wide variety of fillings, try the savoury tau sar piah with a salty butter filling.
Newton Food Centre
Newton MRT Station. A popular hawker centre known for its seafood and local dishes such as hokkien mee, oyster omelette, popiah, ice kachang, satay and fried rice. Do double-check the price of any seafood you order.
Novena Peranakan Cuisine
273 Thomson Road #01-02 (Novena MRT). The restaurant promises "typical home-cooked nonya food", and that's what you get, with Peranakan classics like ayam buah keluak (chicken with keluak nuts) and babi pontek (pork stew).
Novena Gardens
Novena Gardens is a entire row of restarants and eateries near Novena MRT station. Ranging form Cantonese cuisines from Peach Gardens to DIY cooking at 2nd Mini Steamboat and local cusines at Novena Peranakan Cuisine.
City Square
A first eco-friendly shopping mall in Singapore. Offering a wide array of value-for-money merchandise and services, exciting promotional activities, street fare as well as international cuisine, City Square Mall is envisioned as a miniature 'town-centre' which provides the perfect setting for the community to meet, play and shop while acquiring an eco-learning experience.
Mustafa Shopping Centre
Singapore's supreme discount department store: floor after floor of absolutely everything at rock-bottom prices, ranging from Rolex watches and washing machines to fresh mangoes, tailored suits and airline tickets. Open 24 hours; the exchange counters in front are probably the best place in Singapore to exchange any currency you can think of at competitive rates. Mustafa Centre also offers travel, hotel reservation and visa assistance services.
Tekka Market and Serangoon Road
Central streets of Little India are packed with stalls selling all sorts of Indian goods. Tekka (as it is locally known), has a plethora of stalls selling Indian, Malay and Chinese food. Also available are souvenirs such as brass oil lamps and pots, or fresh garlands of jasmine, whose scent is the signature aroma of Little India.
Sim Lim Square
A giant electronics mall, with hundreds of tightly packed specialist stores offering some of the most competitive prices for computers and consumers electronics in Asia The upper floors and the back corridors are where the real deals can be found.

Velocity
10 Sinaran Drive (Novena MRT). Atop the MRT station, Square 2 is consciously modeled on the hip malls of Seoul, packed with 500 small boutiques selling Korean fashions, electronics, accessories and food.
Square 2
238 Thomson Rd (Novena MRT). Formerly Novena Square, this is by far Novena's largest shopping mall. The main theme is higher-end branded sporting goods,but there is also a decent selection of restaurants, a Kopitiam food court and a Cold Storage supermarket.
United Square Shopping Mall
United Square Shopping Mall is the destination mall for families. Positioned as A Kids Learning Hub, United Square is truly the place for fun play and learn, fully equipped with kids-friendly features from a luxurious nursing room, colour themed levels, spacious corridor walkways, carpeted grounds, play features right down to animal-shaped bins! There is also a state-of-the art al fresco forecourt with F&B outlets for the whole family.
Haji Lane & Arab Street
Haji Lane where local designers and young entrepreneurs who have set up their boutiques offering made-in-Singapore fashionable wear and products. You will find excellent vintage shops selling an array of contemporary, quirky garments and accessories as well as local boutiques by up-and-coming designers that have been refurbished in their own unique style.
Kampong Glam
A get taste of the Malay culture in Singapore. The historical district originates from the Gelam Tree, which once grew abundantly in the area. In 1822, the land in Kampong Glam was officially allocated to the Malays and others in the Muslim community, including a small but successful community of Arab traders. You'll also find textile shops that have been in business since the 1950s!
Little India
Little India is one of the most vibrant and culturally authentic districts of Singapore. Take in the sights, sounds and smell as you immerse yourself in an authentic Indian experience in Singapore. Its charm lies in the fact that many of olden-day trades can still be found by its roadsides, alleys and back lanes. Fortune-tellers and their parrots, flower vendors selling garlands of jasmine, kachang puteh (roasted nuts).
Sultan Mosque
3 Muscat St (off North Bridge Rd). A visit to Singapore's Kampong Glam district isn't complete without a stop at Sultan Mosque. With its massive golden dome and huge prayer hall, the Sultan Mosque is one of Singapore's most impressive religious buildings, and the focal point of Muslims in Singapore.
Hajjah Fatimah Mosque
4001 Beach Road. Singapore's second most important mosque historically after Sultan Mosque. It was named after an aristocratic Malay woman who donated money to build it. Its design is a mix of local Malay Muslim and colonial British architecture. This minaret tower is also worth a look as it leans slightly off-centre towards the main prayer hall. As with all mosques, revealing clothing should be avoided.
Golden Mile Food Centre (Army Market)
Beach Road. Sells surplus equipment from the Singapore Armed Forces. Mostly popular with local soldiers shopping for accessories replacements, but also of interest to low-budget camping enthusiasts or camouflage lovers.
Malay Heritage Centre
Malay Heritage Centre (MHC) provides wonderful cultural exposure and learning opportunities for visitors of all ages and interests, the centre acts as a vital heritage institution for the Malay community in Singapore.
Sasanaramsi Burmese Buddhist Temple
14 Tai Gin Rd (off Balestier Rd). Completed in 1990, equipped with an eye-catching golden spire, it is the only Buddhist temple outside Myanmar to be built in the traditional Burmese architectural style. Inside, the most remarkable features for the lay visitor are the Buddha statues enhanced with swirling LED halos; be sure to climb up to the third floor to see the largest and most stunning of the lot.
Sun Yat Sen Nanyang Memorial Hall
12 Tai Gin Rd (off Balestier Rd). Built in the late 1800s as Wan Qing Yuan, the villa was offered in 1906 to Chinese revolutionary Sun Yat Sen, who stayed here eight times while in exile. The villa has been lovingly restored and was reopened to the public in 2001, but the contents of the museum inside are a little dull unless you have a keen interest and solid background in Chinese history.