CITY CENTRE
Hotels in city centre
Hotel 81 Chinatown
新加坡81酒店-唐人街
Hotel 81 Bugis
新加坡81酒店-武吉士
Hotel 81 Selegie
新加坡81酒店-实里基
Hotel 81 Heritage
新加坡81酒店-合乐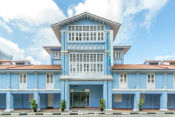 Hotel 81 Osaka
新加坡81酒店-大阪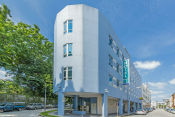 Hotel 81 Cosy
新加坡81酒店-舒适
Bugis Junction
Above Bugis MRT. Bugis Junction has a mixture of shopping options to enthral even the most seasoned of shoppers. Part traditional mall, part open-air shopping district, Bugis Junction is one of the few malls in Singapore that has sidewalk cafes and shophouses sitting alongside gleaming new retail palaces.
Bugis+
Located along Victoria Street in the Bugis arts, culture, learning and entertainment district, Bugis+, formerly known as iluma, has become a familiar landmark with its illuminated "crystal" façade. With a net lettable area of about 194,000 sq ft, Bugis+ enjoys synergy with Bugis Junction, linked via a bridge at Level 2, serving the wider needs of PMEBs, young adults and teenagers.
Raffles City
Above City Hall MRT. Raffles City positions itself as a contemporary and fashion-forward mall; constantly evolving to stay relevant to consumers' needs through the years. Buzzing with convenience and extensive offerings from exciting new fashion tenants, enhanced food and beverage (F&B) choices at Basement 1 to beauty-on-the-go at the Basement 2 Link way, there is definitely something for everyone at Raffles City.
Suntec City
Listed by the Guinness Book of Records in 1998 as the largest fountain in the world, the Fountain of Wealth* is located within one of Singapore largest shopping malls, Suntec City, engages over 300 retail outlets, 50 pushcarts and 100 F&B establishments spreading across 4 floors. The mega mall is divided into different zones: high-end labels, lifestyle merchandises and services, the F&B, and the entertainment centre
Marina Square
Shop, eat, play and relax at Marina Square. It is also filled with high street fashion boutiques like Zara, Mango, Topshop and Miss Selfridge as well as John Little, Muji, Crocs and more, with over 300 shops in total. The mall also often runs special privileges and promotions just for tourists.Marina Square is also a great place to have a meal, with its abundance of cafes and restaurant.
Chinatown Point
Located above Chinatown MRT Station, the newly revamped Chinatown Point house new retail stores like Uniqlo, Daiso andmany F&B outlets for your retail therapy. Next to the shopping mall is the Hong Lim Food Centre serving a variety of local dishes.
Funan Digitalife Mall
Funan Digitalife Mall is one of the best places in Singapore to go to, for all things computer and tech-related. Found in the City Hall area between Victoria Street and North Bridge Road, it positions itself as Asia's leading IT shopping mall – with people coming from afar to have a browse through all of its specialty digital shops.
Sim Lim Square
A giant electronics mall, with hundreds of tightly packed specialist stores offering some of the most competitive prices for computers and consumers electronics in Asia The upper floors and the back corridors are where the real deals can be found.
Orchard Road
The shopping district of Singapore, home to the biggest shopping malls in the country, including ion Orchard, Takashimaya, Ngee Ann City, Paragon, Wisma Atrium, 313@Somerset, H&M Orchard Road, Orchard Central, Centrepoint and Plaza Singapura.
The Shoppes @ Marina Bay Sands®
The Shoppes at Marina Bay Sands® is one of Singapore's largest luxury shopping malls with a refreshing mix of international brands, emerging labels and new concepts. Located in the heart of the Central Business District, this eye-catching shopping destination features a contemporary and open design, offering breathtaking views of the Marina Bay skyline.
Central©
The urban chic Central is home to over 150 exciting retail stores & F&B outlets spread over five levels with each level offering unique themes. Whether you are indulging in a spot of riverfront shopping or treating yourself to a riverside dining experience, you will always find something refreshing at Central.
Singapore Art Museum
Formerly the St Joseph's Institution, a premier boys' school, it is now a state-of-the-art museum housing the largest collection of moderm and contemporary Southeat Asian artworks
National Museum
With a history dating back to its inception in 1887, the National Museum of Singapore is the nation's oldest museum with a progressive mind. A cultural and architectural landmark in Singapore, the Museum hosts innovative festivals and events all year round – the dynamic Night Festival, visually arresting art installations, as well as amazing performances and film screenings.
Singapore Philatelic Museum
Singapore Philatelic Museum is the custodian and curator of Singapore's treasure of philatelic materials. The museum collections range from stamps and archival philatelic material of Singapore from the 1830s to present day, and stamps from member countries of the Universal Postal Union.
Marina Bay Sands
Marina Bay Sands is a destination for entertainment, business and shopping, delivering once-in-a-lifetime experiences. This landmark building is situated in the heart of Singapore's central business district. With state-of-the-art convention and exhibition facilities, theatres, casino and some of the best shopping and dining in the region.
Gardens by the Bay
Award-winning horticultural attraction houses over 250 thousand rare plants and is just a five-minute walk from the city. The Gardens comprises three spaces—Bay South, Bay East and Bay Central. From the waterfront promenade, enjoy an amazing view of the Marina Bay financial district skyline. The grounds are perfect for an evening stroll and a picnic with loved ones.
Marina Barrage
Marina Barrage is a dam that creates Singapore's 15th reservoir, and the first in the heart of the city. View the Central Business District Skyline, stroll in the Solar park and learn and experience other recreational activities such as boating, kayaking and wind surfing.
Esplanade - Theatres on the Bay
Esplanade - Theatres on the Bay offers dining, shopping, music concerts, performing arts & theatre shows on the waterfront of Marina Bay Singapore.
Fort Canning Park
A place of historical importance in Singapore, Fort Canning Park was formerly known as "Forbidden Hill". It was an important military base during World War II. Situated near the Orchard Road shopping district, behind the National Museum of Singapore, Fort Canning Park is a historical centre, a venue for performances and concerts, and a location where you can enjoy nature.
Clarke Quay
Clarke Quay is a colourful kaleidoscope of buildings housing antiques, restaurants, hip cafes, jazz clubs and more. At night, the entire zone of 5 blocks of restored warehouses lit up and beamed with an array of quirky alternative to mainstream clubs.
Boat Quay
Boat Quay is a zone offering an eclectic mix of high end restaurants and alfresco dining and lively bars and pubs. Boat Quay is arguably the favourite place to "chill out" for most professionals and expatriates.
Chinatown Street Market & Food Street
There are more than 200 market stalls lining Pagoda, Trengganu and Sago streets, all of which offer a wide selection of old and new collectibles. The Chinatown Night Market is especially vibrant and fun to visit during Chinese New Year.
At Chinatown Food Street, you can soak in the festive ambience between the rows of eccentric conservation shophouses that have been given a fresh lease of life with bright modern colours.
Ann Siang Hill & Club Street
A short stroll away from Chinatown leads the curious wanderer to a charming little area of colourful shopfronts, old window shutters and streetlamps from an era long ago. Ann Siang Hill and Club Street, once the homeground of traditional Chinese clan associations and exclusive social clubs, now hosts a variety of quirky shops, cafes and watering holes – making it the perfect place to while the day away. Besides pastry / confectionary shops, wine bars, vintage clothing outlets, retro toy stores, alfresco restaurants.
Singapore Flyer
At a height of 165m, Singapore Flyer is the world's largest Giant Observation Wheel and also one of Asia's biggest tourist attractions. Singapore Flyer was conceived and designed by Dr. Kisho Kurokawa and DP Architects, Singapore. It held its groundbreaking ceremony in September 2005 and was launched in 2008. It promises more than just a view, but a panorama that captures Marina Bay's skyline with a glimpse of neighbouring Malaysia and Indonesia.
Peranakan Museum
The Peranakan Museum explores the culture of Peranakan communities in in Southeast Asia. This intimate museum possesses one of the finest and most comprehensive collections of Peranakan objects. Galleries on three floors illustrate the cultural traditions and the distinctive visual arts of the Peranakans. The museum is a component of the Asian Civilisations Museum, operating under the National Heritage Board.
Singapore National Library
Drop by the National Library of Singapore, at Victoria Street, a 16-storey state-of-the-art library with a 3-level basement situated in the heart of Singapore's Arts, Culture, Learning and Entertainment hub.  The building consists of two blocks that house the Lee Kong Chian Reference Library and Central Public Library collections and provide space for other public activities, including a 615-seat theatre.